Frequently asked questions
We have collected the most important information about working & living at the Naturhotel Forsthofgut for you. If you have any open questions, you can reach us at +43 6583 8561.
About us
Once run as a forestry business and small guesthouse, our traditional hotel is now considered the epitome of harmony with nature and the love of home. It is a place of rest and an ideal starting point to enter the Leogang mountains. Your hosts, the owners Christina and Christoph Schmuck, run the Naturhotel Forsthofgut with passion and a love of detail in the fifth generation with the support of hotel director Bianka Bitter.
The Forsthofgut has 105 rooms and suites with a maximum occupancy of 266 guests. Due to the relatively high proportion of families, however, there can be up to 340 guests in the house. With our occupancy rate of 95% over the year, we assume an average number of guests of 290 to 300 people.
A total of 220 employees from service, kitchen, housekeeping, reception & reservations, waldSPA, Boutique lieblingsDINGE, Rocky's Club, building services, human resources, and sales & marketing departments look after our guests 365 days a year.
We grew up surrounded by forests, mountains, and meadows, so we are closely connected with nature. We experience this connection together at the Forsthofgut. For us, it is not about higher, further, or faster. No, we are concerned with the sustainable use of materials and resources of nature, the preservation of traditions, and the conscious experience of extraordinary moments.
The Naturhotel Forsthofgut has received several awards in recent years, especially in spa categories, with Europe's first waldSPA, and culinary categories, with our ForsthofgutCUISINE concept. We feel honored by this recognition and carry our awards full of pride.
Kununu Top Company 2022 & 2023
Best Employer 2022 in the category Sustainability by Falstaff Profi
World Boutique Award "Wellness & Spa" 2022
3 lilies in the Relax Guide 2023
Wellness Heaven Award 2022: 1st place in the category "location"
Top 10 best hotels in Austria in Falstaff Hotelguide 2022
Travellers' Choice Best of the Best Award 2020 in the category Best Luxury - Austria
3 toques/15.5 points from Gault Millau
Top 3 most beautiful wellness hotels in Europe - GEO Saison 2019
discover our awards
Application
At the Forsthofgut, either Mr Hans-Peter Oberhuber (for all professionals) or Ms Leonie Kröncke (for all youngsters such as apprentices, interns or trainees) is responsible for all recruitment issues.
If you don't find a suitable job on our careers page, you can send us your documents by clicking on "
apply now
". Please let us know your wishes regarding tasks and salary so that we can find a suitable job for you.
This varies a little from position to position. However, we proceed as follows:
Checking the application documents: As a rule, the first thing we do in the HR team is check your application documents received via our online form.
First contact: If we see potential for a collaboration, a first telephone call follows to clarify the most important key data.
Interview: This may be followed by an invitation to our hotel to get to know you personally. The focus is on your skills and personality (no assessment centre or similar). This also gives you the opportunity to get to know our company and your future colleagues and superiors.
Acceptance: If both sides are happy, the final contract is negotiated and once it has been signed, you can start!
You will usually have the interview with one person from the HR team and one or two of our colleagues. These are usually your future supervisor and someone from the same department. We want to get to know you in a relaxed atmosphere and give you the opportunity to tell us about yourself, explain your motivation for the job and clarify your questions. After the interview, we will of course show you the respective work area and also the entire building during a guided tour.
After the application process, your data will be stored in our system for 6 months. This is subject to your consent in the privacy policy.
Yes! If there is no suitable internship or training position in our job portal, you can send us your documents by clicking on "apply now". Please tell us what you would like to do and where you would like to work so that we can find a suitable job for you. A 10-month traineeship is also possible.
Send us your cover letter explaining why you would like to work for us, your CV and your references.
Sure! It is enough for us to mention in your cover letter that you are also interested in other positions.
Absolutely! Often it's just nuances that make the difference. We would be happy if you keep an eye on our careers page and apply again.
You will be able to use your German and English skills at least to C1 level.
This is not possible for every position, but just let us know your wishes and we will check the possibilities and do our best to find a solution that suits you and us.
First working day: Approximately 1 week before your first working day, you will receive an email from us with information about your first working day and an induction plan from your department head. The day begins with a short introduction to organisational topics by the HR department. Afterwards, your mentor in the respective department will provide you with professional support and help you integrate into the team.
Dress code: Depending on the department, we have a clothing plan. You will be provided with a large part of it.
Benefits: In addition to a pleasant working atmosphere with valuable colleagues, modern work equipment and a strong focus on work-life balance, we enable you to develop your personal career plan in order to offer you a long-term perspective at Forsthofgut.  For this purpose, we organise further training tailored to you and enable you to acquire certifications as well as in-house benefits. Have a look at our section
https://www.teamforsthofgut.at/de/benefits/
Feedback: We live a distinct feedback culture. Every employee has at least 1 discussion with his/her supervisor per year. Likewise, the entire working day at the Forsthofgut lives from constant mutual support and strong teamwork.
Onboarding
Our goal is to welcome and introduce our new colleagues in the best possible way. Before starting work, all employees receive detailed information by e-mail and mail as well as their training plan, which prepares them for the first weeks at Forsthofgut. During the first weeks, all new employees are additionally accompanied by their Forsthofgut MENTOR, who supports them with words and deeds and thus facilitates the start in the new environment.
When structuring the probationary period, we follow the legal regulations of the collective agreement for workers and employees in the hotel and restaurant industry.
In the first few days and weeks, new employees have their own personal ForsthofMENTOR at their disposal. This program serves  to support new employees in all areas and is intended to facilitate the start in the new environment. In addition, the first days consist of getting to know the Forsthofgut and its departments with employees and becoming familiarized with the processes.
Living
The Forsthofgut offers about 125 accommodations, ranging from 300 meters away to just under 9 kilometers away from the hotel. The standard varies and for the most part, there is a private bathroom with toilet and cooking facilities. There is no rent, but operating costs are retained. Parking is available at all accommodations. The Forsthofgut manages the allocation of  the rooms which we provide for the duration of service.
To ensure that our employees not only enjoy their work but also their time off, we  like to show our appreciation with numerous benefits for our team outside of working hours. An extensive selection of the benefits at the Forsthofgut and in the region awaits our employees.
find out more
At Forsthofgut, our staff shuttles are available to employees. These are six BMW i3s, which can be allocated directly in the HR office, depending on availability. In addition, the Leogang region offers LeoMobil, a car-sharing service that the Forsthofgut team can use free of charge.
Work Permit, Authorities & Insurance
As an EU citizen, you do not need a work permit to work at Forsthofgut, but third-country nationals must have one.
The application for the "Red-White-Red Card" is limited to occupations with employee shortages and, in our experience, takes at least 8 weeks.
Each employee must register with the municipality of Leogang or Saalfelden within 3 days, depending on the accommodation. The registration forms are handed out at the beginning of employment. All non-Austrians must also register with the district administration in Zell am See within 3 months.
All fully insured persons enjoy the health, accident, and pension insurance of the ÖGK. If someone has not yet worked in Austria,  a social security number will be issued automatically and communicated. After the obligatory registration of a passport photo at the police station in Zell am See, an e-card will be issued. It is deposited with Valida+ GmbH.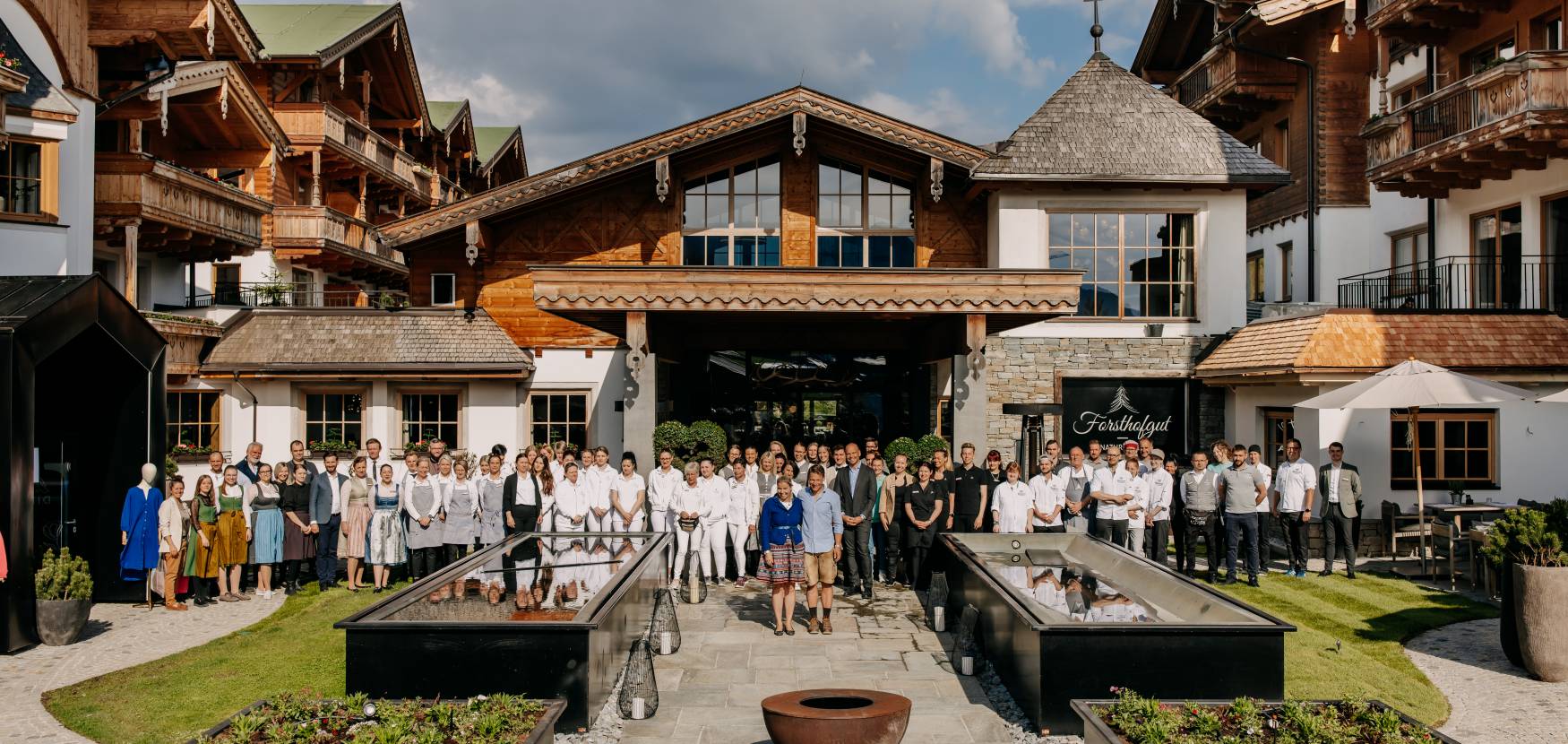 Working at the Naturhotel Forsthofgut
Here we work together to enrich our guests every day with extraordinary experiences. We are looking forward to you: Become part of the amazing Forsthofgut team and grow above and beyond yourself!
apply now