Perks for our team
Our team should not only feel comfortable and appreciated during working hours, but we also want to enrich our employees' leisure time. That's why the Forsthofgut, together with partner companies from the surrounding area, offers numerous benefits employees can use in the hotel and in the entire region. In this way, we contribute to a balanced togetherness.

5.700 m2 waldSPA & Fitness
Our entire waldSPA area is available to our employees without restriction for sufficient relaxation and recreation in their free time. To give our guests and our team as much freedom as they need, the large indoor swimming pool and the well-equipped waldSPA Fitness can be used 24/7. No matter what time of day it is, you can recharge your batteries here. In addition, all employees of the Forsthofgut receive discounts on treatments and massages in our waldSPA.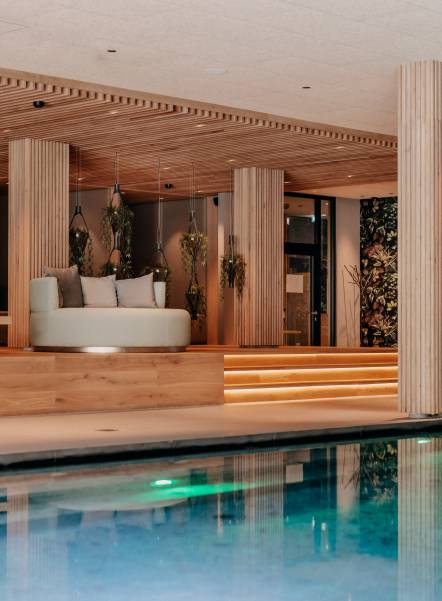 Be you. Do you.
For you.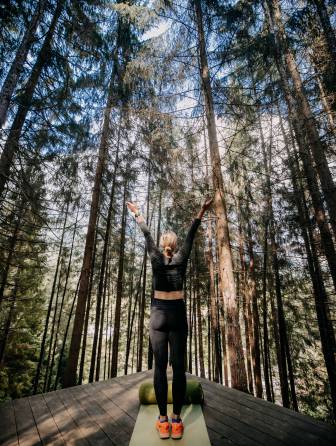 Staff Accommodations
Home away from home. We are happy to provide cozy and well-equipped staff accommodation for our employees in the Forsthofgut team subject to availability, all located in the immediate vicinity of the hotel. The comfortable rooms are also the perfect starting point for exploring the region.


Meals
As part of Team Forsthofgut, you have three free meals a day at your disposal. Even on days off, you enjoy breakfast, lunch, and dinner with a choice of a wide variety of delicacies. Salads, main courses, and desserts ensure a balanced diet and enough energy for the day.

Employee Clothing
We provide most of the modern, stylish work clothing for each department. Our Forsthofgut team can expect pleasant and high-quality clothing in modern colors and materials appropriate to their activities and tasks.


Extensive training offer
talentJOURNEY & talentTRAINING
The Naturhotel Forsthofgut offers all employees an extensive training program to develop personally and professionally in an optimal way. Our talentJOURNEY seminar series and the talentTRAINING app are two significant elements of this. In addition, it is important to us to promote the talents and strengths of each and every individual and support team members in achieving their goals.

learn more

Leisure activities in the region
At the Forsthofgut, we never forget fun and excitement. Team members benefit from numerous advantages in and around our nature hotel. Free use of the tennis court, participation in the activity program, and staff parties on our alpine pasture ensure variety. In winter, the Skicircus Saalbach Hinterglemm Leogang Fieberbrunn with discounted ski passes, free ski rental, and numerous other winter activities awaits all sports enthusiasts.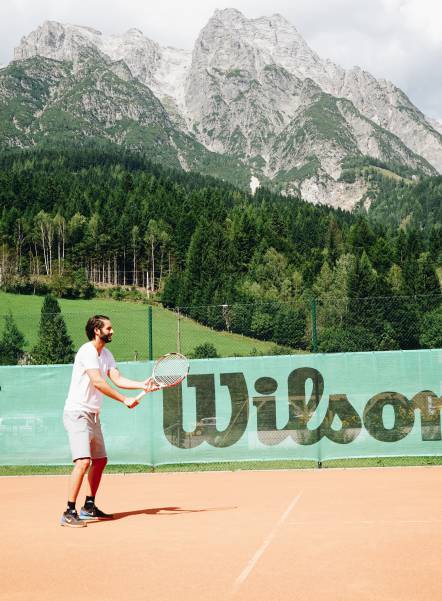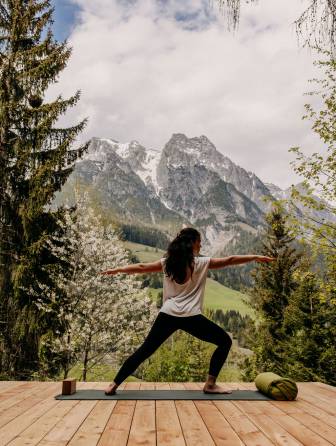 waldGEFLÜSTER - the Forsthofgut Podcast
What ideas drive the Forsthofgut team? And what is it actually like to work here? These questions – and many more! – are answered in our waldGEFLÜSTER podcast. This is where the Forsthofgut team have their say and tell their stories.

listen now: forsthofgut.at
Inspiring stories
Enjoy every single moment in your life.
-50%
waldSPA Skincare
We have packed everything that makes us feel good at the Forsthofgut - the power of nature and the aura of the extraordinary - into our new skincare products. We combine natural ingredients with high-end active ingredients to create skincare of the highest quality, which you can purchase at a reduced price as a member of the Forsthofgut team.
-20%
Restaurants & Boutique lieblingsDINGE
In addition to the perks in the waldSPA, employees can look forward to further perks in the hotel. All members of Team Forsthofgut enjoy discounts of -20% in our restaurants and in our boutique lieblingsDINGE. We are convinced that enriching cooperation in life and work is characterized by special opportunities and experiences.
 -50%
MTB- & E-Bike-Rental
Many well-marked trails and paths wind through the meadows and forests around the Naturhotel Forsthofgut. These are best conquered with the bikes from our hotel's own bike rental: The latest Scott models are available to our employees for exciting tours at a 50% discount. This calls for a relaxing break in nature.

Do Good Day
Voluntary activity
For many years, the Schmuck family has supported charitable causes in their home region of Pinzgau, either privately or with the help of the team and guests at Forsthofgut. We would also like to give our Forsthofgut team the chance to do good and stand up for equal rights and opportunities for all. This is the idea behind our "Do Good Day". Employees who do voluntary work receive an additional day off. Together we make positive changes.

to the Forsthofgut Foundation